Tax Preparation Services
Income taxes can get pretty complicated—and if you failed to file them properly or on time, all kinds of problems can ensue. That's why it pays to have a working relationship with an experienced tax preparation service like The Levy Group of Tax Professionals. Whether you need help in preparing overdue tax returns, filing an IRS extension, or just making sure you're getting all the deductions you're entitled to, our certified tax preparers have the experience and credentials to provide you with that extra level of expertise. With 22 years of day-to-day experience in tax services and tax resolution, we're one of the most qualified teams of tax preparation consultants in the Washington, DC area. Call or e-mail us for a free estimate and to get started.
Here's what sets us apart from other tax preparation or accounting firms. In addition to our A+ rating with the Better Business Bureau, we also offer you the advantage of certified enrolled agents and experienced tax attorneys on our staff. That not only reflects our commitment to providing you with the best available tax advice and representation in the DC area, but it also means we can help you avoid and solve a wider range of tax problems than many other tax services. We're committed to ongoing professional education, and we make it our business to stay apprised of all the latest tax law developments and IRS policy changes.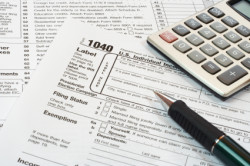 If you're looking for tax preparers with experience in helping individuals, self-employed people, and small businesses, our team of tax consultants can meet all your requirements. Not only will we make sure you get all the deductions and tax credits you're entitled to, but we'll also help you avoid triggering any IRS red flags that could result in a tax audit. We're the firm you can rely on for all your tax preparation, problem resolution, and tax planning needs. When you consider our low prices, extensive experience, and commitment to customer service, your best choice for income tax preparation in the DC area is The Levy Group of Tax Professionals. We're a family-owned tax preparation service that provides you with the individual attention and customer support you'd expect from a service-oriented tax preparation business. Unlike many of our competitors, though, we offer clients a higher level of expertise so that we can be your full-service tax preparation company now and in the future. Call us today for a free estimate and more details!
Tax Filing Service
Tax Prep Service
File Tax Service
Tax Preparation Services